Couples Therapist in Chicago
Our closest relationships have tremendous impacts on our wellbeing, both emotionally and physically. But the mutual respect, shared closeness, and palatable joy that you may have felt effortlessly at one time in your relationship doesn't have to be a thing of the past. Through a thorough examination of the patterns and dynamics in your current relationship, it can - again - offer you an opportunity to love and be loved.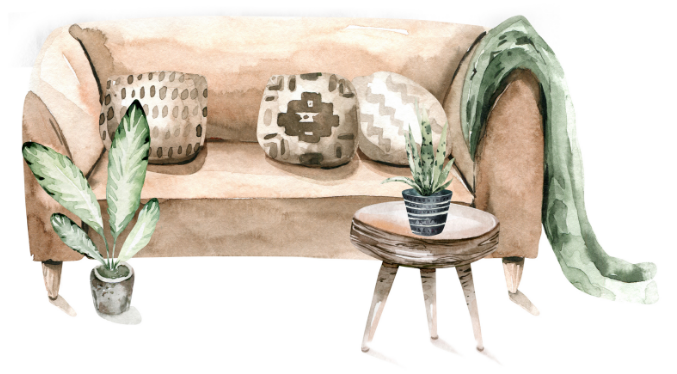 Can't we do it without couples therapy?
Of course exploration of your relationship pitfalls can happen on your own, without couples therapy. The problem is that these life changing considerations often lead down well-worn paths of resentment, stonewalling, and defensiveness. While these reactions may be justified, they leave little possibility of making change. In couples therapy, a skilled and experienced couples counselor can help to illuminate the dynamics in your relationship, so that you can better understand how you and your partner impact each other and work to build a healthier relationship.
Common goals:
Improve communication
Increase sense of support
Create a shared vision for the future
Navigate difficult situations, such as extended family dynamics, chronic illness, or infidelity
Enhance intimacy and sexual satisfaction
Reduce arguments and bickering
Understand the dysfunctional patterns that exist in your relationship, how they developed, and ways you unknowingly repeat them
How does couples therapy work?
Our couples therapists create an environment of trust and honesty to explore past experiences; identify relationship dynamics, roles and patterns; and learn skills to enhance the present day connection. We don't take sides and are non-judgmental. We respect all people's views and feelings and work to catalyze mutual desire for relationship improvement. Our couples counselors use emotionally focused couples therapy approaches and frequently assign couples therapy exercises.  And, we have decades of experience working with all kinds of relationships, including LGBT+/queer relationships. Through this environment of structure and support, we can recognize unhealthy patterns that may be difficult to observe from within the relationship.
When is the right time for couples counseling?
Even the healthiest couples fight, so identifying the right time to engage in couples therapy seems challenging. If you're asking yourself if the time is right for couples counseling – it is.
Some couples choose couples therapy in times of crisis, such as infidelity or contempt for one another. But couples therapy is often as effective, and usually more effective, when partners are simply looking to improve the health of their relationship. Understanding conflict enables couples to process it, learn from it, and change behaviors in order to feel greater trust and intimacy within their relationship. Look out for common myths:
Couples therapy is too drastic for our problems.
We're soul mates, so problems will resolve themselves without couples therapy.
Nothing is really wrong.
When strong emotions are involved, it is difficult to keep old scripts from running through your head, preventing you and your partner from really listening to one another. In couples therapy, you will take turns listening to one another and really hearing each other's experience. By working to understand one another, even when you fall short, you will build greater trust, intimacy, and security in your relationship.
Do we have to be equally engaged for couples therapy to work?
It's common for couples to begin couples therapy with one member of the relationship more motivated for therapy than another. This isn't alarming and can simply become an initial goal of couples therapy, as the best outcomes result from all members of the relationship being motivated for change.
Is couples therapy based in science?
Our approach to couples therapy is more successful than others because it is grounded in research tested approaches and evidence-based principles. Our team of couples counselors and therapists have decades of experience applying strategies that we know work. We draw on science to choose therapies, such as Emotionally Focused Therapy (EFT), Internal Family Systems (IFS), Imago Therapy, Narrative Therapy, and the Gottman Method. As a result, we have an abnormally high rate of success helping couples change painful patterns that lead to unhappiness and dissatisfaction.
What can you expect in couples therapy?
The process begins with the couples therapist getting familiar with your relationship by learning your background history, couples therapy goals (whether specific or general), and establishing a frame of trust, honesty, and support. You and your couples therapist will then work together to identify stalemates and pitfalls in the relationship as well as the underlying dynamics that lead to these pitfalls. The couples therapist will focus on identifying and making the underlying patterns of your relationship apparent to you as well as build skills to change. This often includes assigning couples therapy homework to support the growth of the relationship when not in session.
All kinds of relationships can benefit!
Although the name, "couples therapy," can sound limiting, couples therapy is appropriate for many kinds of relationship structures. Our relationship therapists work to build greater connections with LGBT+/queer relationships, long-term relationships, partners, policule relationships, open relationships, transgender and gender non-conforming members of relationships, mixed-race relationships, premarital relationships, blended families, and second marriages.
Romantic relationships can be one of the biggest impacts on our lives, even when we aren't in one. Some common relationship problems are:
Unsatisfying connections with others
Anxiety about dating
Repeating unhealthy patterns
Choosing the wrong partners
Problems letting go of a past love
Navigating uncertain relationships
We can help. Of course, we bring the relationship patterns that form throughout our lives into present day relationships. Working with an experienced individual therapist in Chicago, you can unveil these patterns and increase your capacity for intimate, secure love.
Do you offer premarital counseling?
A great time to better understand your partner and your relationship is before getting married. Our premarital counseling program supports the development of sound relationship principles - effectively communicating, repairing rupture, showing love, building a shared vision for the future, ensuring trust, and more.
How do I find a couples counselor in Chicago?
If you're looking for couples therapy in Chicago, you're in the right place. Tandem Psychology has a team of experienced, highly effective couples therapists. Contact us today to schedule an in-person appointment at our Lakeview offices or a telehealth appointment to engage in couples therapy online.